I felt somewhat better today, as opposed to yesterday, so I went geocaching. I headed off
1
to give that one by the laundry a shot. Down there by Park and El Cajon. It being rainy, there were very few people there, and I was able to make the find. Finally!
Then I drove down Florida to Balboa Park to utilize the new intelligence I had acquired about a Puzzle Cache there. I guess I still did not have enough intelligence, I didn't find it.
I had solved several puzzle caches I wanted to go find. I found that I had left the printouts at home. Not good. Fortunately I had saved the coordinates in a personal note on each page. Unfortunately I couldn't remember what/where/which all the caches were. I was able to figure out two, and I went for them.
But first, I stopped by Birdland to find a cache that had been repaired, and found that it had, so that was very nice. A clever hide, right in the open, but who would ever look there?
One cache was located in a spot that was VERY difficult to get to. Legally. I had to skirt the pedestrian law and sneak to it. On the way back I was startled by this woman pushing her stuff in a pram right up the street, while I was trying to stay OFF the street. So, I followed her lead, which allowed my clothes to dry off. It was raining, them bushes are WET!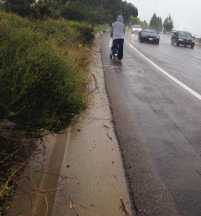 Over in Tierrasanta I am stalking the wily geocache...shhhh, it's very near!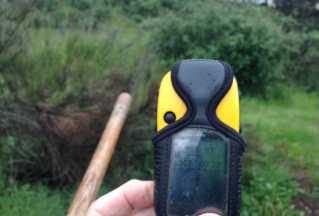 So much for crossing the stream, the "bridge" is under water, it's cold, and I didn't bring my water socks. Another day. Summer, maybe?
I didn't walk more than a mile today, but I found around fourteen caches, didn't find two, and three of the finds were of caches I had looked for several times, one of which I first didn't find way back in 2011. So that was GREAT!
Have a good week!
1
Down the 8 freeway, can you believe? Smooth sailing in the rain, except for that one guy stopped in the
number three lane
with his blinkrs on just after the Waring Road interchange. What fun!