Two views of dinner last night:
I think I like this picture more better.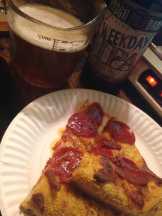 After many years of wondering I finally found out the name of that painting/print that hung over the fireplace at Christine's house on
The New Adventures Of Old Christine
! It's
Atlas
, by
David Palmer
! He sure has some nifty stuff!
I solved a puzzle geocache at work today and after work I drove over to the Mt. Helix area to find it. I REALLY should have established EXACTLY where I was going first.
My log:
I solved the puzzle at work today, then headed out towards, but not to, the GZ. Got REALLY stuck in construction traffic, blocking an intersection at one point after an unfortunate driving decision. After wandering around (not all that wander are lost? I was!) I finally stopped at a park'n'ride and figured out I was about two, maybe three miles from the GZ. So, after getting stuck in going-home traffic, I finally was on my way and got there with no more problems. Except the two guys parked at the nearest decent parking to the GZ. They looked like they were gonna leave, so I made lap around (Is that a private road??) and they had left. Parked and made the find, which would have been an anti-climax except the sun-weakened plastic container disintegrated in my manly hands. Oh crud! Well, at first I was gonna tape it back together and let the CO know, but then I thought, "Hey, I'll just substitute it with one of my patented SLPBs!! In fact, the remains of the broken container (and it's slightly moldy log) fit just inside the SLPB. I just made a hole in the top for the hanger and put it back exactly where it had been, or pretty darn close to it. Thanks for the cache!
And here is the top of the old cache.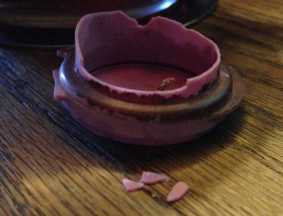 Let us see, both doctors changed their appointments for slightly different days, I got a the dentist to put in that crown now that they have a particular shade of brown later this week. L. got a jury duty notice that I sent back explaining how that wasn't going to work out for her. I put out the garbage and recycling cans for tomorrow, but the greens can is too heavy, the gardeners that fill it up will have to do that themselves.
Did I mention I'm reading
Thunderstruck
, by Erik Larson? I'm enjoying it very much, and it is NOWHERE as grisly as his
The Devil In The White City
. Both are non-fiction.
I found out today, having not noticed it in an email last week, that one of the library classroom's will be the Teachers' (and I assume staff) Break Room & Quiet Place. With a microwave! That will be sweet, as I can microwave my oatmeal for lunch and NEVER leave the library! Oh, this will be AFTER break, I'm still in the bungalow, where it is VERY warm!
Gotta get the oil changed in the vehicle, that is my goal for the next two weeks. And not forget any appointments!
sfdsf