I noticed yesterday that our manzanita bush at work is gone. Someone said it died so the landscapers removed it
Now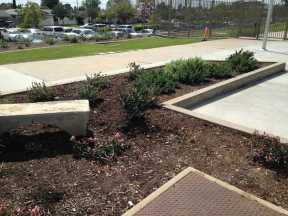 Then
This picture is from 2014, wasn't in the folder, why did I not upload it back then?
Well, so much for that bit of coolness.
I solved a major (for me!) puzzle cache at work today. I've been staring at it for several years and was just about to email a "HELP!" to the cache owners when I noticed something and had an idea, and THAT eventually, a couple of hours later, led to something that worked, and a couple of hours later I had the coordinates in hand. Found it after work, too!
Which ALMOST makes up for a Did Not Find before work that should have been easy, but all I got was ants. Said ants got a trip to work, too!
I now have a key to the renovated restroom nearer to The Library In Exile! So I don't have to walk clear across the campus!