It promised to be another warm one, but low 90s don't seem quite as bad as I imagined. But then I'm not out in the sun any more today!
I went down to Chula Vista, National City, and even smidgen of San Diego for to get some geocaches this morning. I started out before dawn, gassing up the vehicle and heading south on the 125 (then 54).
I wanted to get some caches from a series I had almost completed. I found five, including one I Did Not Find (DNF) previously, and another DNF that still REMAINS a DNF, even after FOUR visits. And it is the last of the series I need to find. Another time, sez I.
Heading north again I knocked off a few more of another series, one that has a Ride The Trolley theme. Managed to located all of those I looked for, but there are MANY more to be found!
I did a little side trip over to
West Frontage Road
(not far from the salt works), which may or may not be in Chula Vista. Didn't find the cache, but found these bicycles.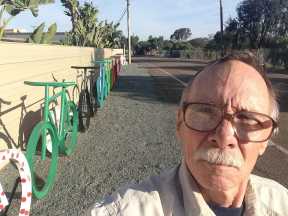 Continuing north I found some more of the "trolley" caches, plus some others along the way. While walking a Big Circle from 32nd & Boston Ave. to NASSCO and back, I noticed this sidewalk cement stamping on Boston Avenue. Cannot find anything about it in the historical records I looked at. It's Boston Avenue in a
San Diego City Enumeration District Map 1910-1920
.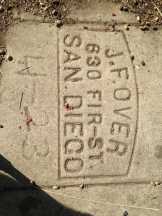 Saw this old, I mean vintage, Honda cafe racer. Needs a bit of work, but could be a cutie. I especially like the zombie hunting permit on the shock fluid container.
The last cache I looked for was in downtown San Diego. I looked around a bit while waiting for a call from my friend. Of course I missed his return call while I was out of the vehicle without the phone, thinking I KNEW where that cache was. Turned out I was wrong.
I DID get to watch the homeless guys playing around with the new public toilets, though.
I met up with my friend and hung out for a while until his meds kicked in and he was feeling sleepy, then I went home. He had been watching one of the Predator movies, which I've not seen, so now I shan't know how it ends.
And now for something completely different...
A mysterious slight whistling started when I had the air conditioner/heater on in the vehicle. It was driving me crazy. I could NOT figure out what could have caused. I was almost ready to dismantle the dash when I accidentally touched the window handle (Yes, manual windows! None of that getting trapped in a vehicle when the electric windows short out for ME!) and realized the passenger window was just a tiny teensy bit open. Hence the whistle when the blower was on...
I ran across the phrase "
That's what I said bunny bread
" on a geocaching-related forum today, never heard that one before. I'd like to use it in a sentence, but I can't then of one. Feel free!
Did I mention it got up to 90 today?
I must be running out of stuff to say, I'll go away now. Thanks for reading!