My first poppies of the new year.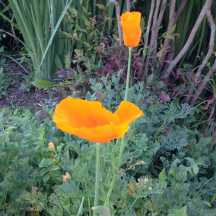 Choose your favorite pic.
I replanted the cuttings I was starting into perlite mixed with potting soil, in stead of just perlite.
I also dipped them in the root stuff again. The ice plant looks like it is growing, some of the rosemarys look like they are doing something, but the ferny-thing just plain died. I added more rosemary cuttings.
That is all for today, except remember Pi Day is coming on Saturday1