Yesterday (Tuesday) I may have forgotten to mention I wore my new BLUE (not BLACK!) Dickies to work. Putting them on I noticed there were extra seams on the legs, turns out they have reinforced knees. So they look kinda odd.
Today I wore the last of the Christmas socks. Here posed with the lights in the window, which are still on every night!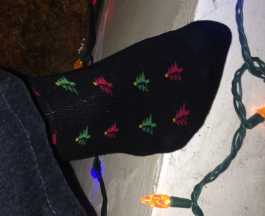 And here just, uh, there. On the couch. Choose your favorite, but keep it to yourself.
Today, Thursday, I went to Home Depot after work to get a couple of LED light bulbs, one to replace a flickering CFL (Compact Fluorescent Lamp) and one for a spare. I hope I get 9 bucks worth of use out of each one, I was quite disappointed in the life of the CFL.
That is about all I got for today. Thanks for reading!