New socks for Christmas, the first of three pair to adorn my tootsies! And in the background, Chrissy Russo returns to do the weather on Fox 5!
The slab was poured over the holiday, but it looks like a little more might be poured towards the left. This is right outside the Library-In-Exile door, of course.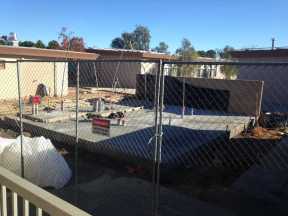 Seems an odd place to install a satellite dish.
Must be a slow news day, that is all I got!
Oh, I postponed my jury duty till the summer.