I got up and went geocaching this morning before six A.M. I went to San Carlos (the San Diego one, not the city in NorCal!), El Cajon, and Lemon Grove. I had one Did Not Find, one plain ol' find, one First To Find, and three chickened-out-of-lookings.
Matt came over in the late morning and hauled me up to Cuyamaca State Park. We walked along the East side trail and found ten caches. I got to feed a horse a piece of carrot to dissuade him from eating my GPS receiver, which is now covered in horse slobber.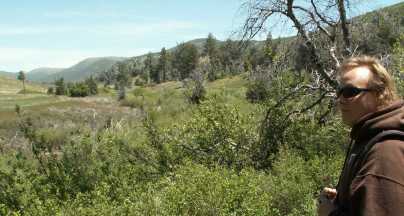 We saw turkeys, too. I thought they were condors until I got home and looked at the images on the computer.
We got two more caches at turn-outs along the 79 highway. Then we turned into what is labeled as Oakzanita on the map, but is right behind Camp Cuyamaca, for all you kids who went to camp there. Matt found the cache first, as I was totally turned around and was nearly set to bushwhack my way to a cache that was actually on a trail.
We went to Julian for a late lunch at Miner's Diner. I forget what the name of what I had was, but it was vegetables and cheeses on grilled bread. Very tasty, and surely healthy?
We returned to the 8 by way of the Sunrise Highway so we could get one last cache that we had not found the last time when we were up there, and it had bee replaced, so it was there now. Of course, Matt spotted it first! I totally missed seeing it even though it was only a couple of inches from my ear!
That's it for today. Yesterday I looked out the bedroom window and saw a cat in the tree. He had trouble getting back down to the fence. It was rather amusing to watch.
Have a good week!