I was taken to brunch today! It was the second brunch I have ever been to, and also the second time I've had champagne before noon. No strawberries in it, this time, though!
A fellow in a helicopter kept flying past. This was maybe his tenth pass. I don't know why the image is blurry, but I like the effect.
As we were leaving I looked for a nearby geocache. I didn't find it, so I took a picture.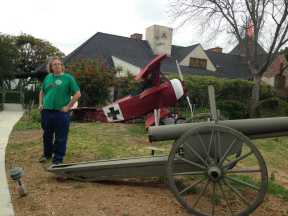 Next we drove down to Dick Blick in Little Italy to get some Japanese papers, but the assistant said they didn't have the particular kind I had chosen in their store. I think I shall order a booklet of samples from a store in Santa Monica that specializes in Japanese papers.
After that we drove down to National City and looked for a cache, and found it, along the Sweetwater River. We had to walk about a mile or so along the very noisy freeway. That part was rather disagreeable. M. was suffering severe caffeine withdrawal systems so we popped over to Starbuck's. I didn't need any myself, but I enjoyed people and dog watching. There was a very cute Dalmatian puppy in the truck next to us.
Where should we go next? Iron Mountain, said I! Not to hike it, oh no, just to reconnoiter the area. Big parking lot, but crowded. Bathrooms, but no water. Yikes! Looks like a strenuous hike up that mountain. Can't be harder than Mt. Miguel, can it? I just did that one last year!
Finally we went home. I fell asleep in the chair and M. fell asleep on the couch.
sfsfsf