This morning there some tree guys brutally trimming a palm tree right down to the ground. Would that it would happen to that awful pest in my backyard. Perhaps I'll mention it to the manager, since I now have her business card, which she made a point of giving me after telling me I've been mailing my rent checks to the wrong suite number for some time now...
Speaking of forgetting, I think I forgot to use the thumbnails on yesterday's post. I shall have to fix that, for those people on dial-up!
I drove out to the back country for a few caches on Dehesa Road. I parked at Sloane Canyon Road and walked to the east for two caches, about 1,500 feet or so. Then walked back again. I took a picture of these flowers across the street from Dehesa Elementary School. Their fire alarm bell was ringing, but I couldn't see any action.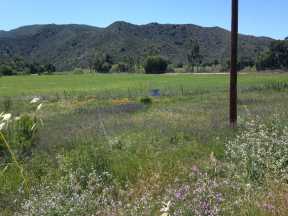 The bell kept ringing continuously as I continued to the west, looking for geocaches. Went I got about 2,000 feet down the road I heard a fire truck coming. After I found all the caches that way that I was going to find, I headed back and saw the fire truck at the school. I saw the children were waiting quietly, unlike certain middle school students I could mention, in the playground. It must have been hot, I myself was wearing a big hat in the sun, they had nothing.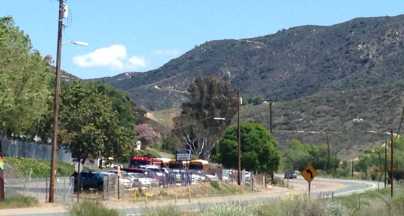 I drove on down the road a piece to another group of caches, some I found, some I didn't. Then I drove down to Singing Hills cemetery and parked there, heading out for another cache, which I didn't find. I figured that since I already paid for a more permanent "parking spot" there (actually, two), they kinda owe me a temporary one sometimes. I visited Camellia's spot, too, and looked at the turtles for a while.
And after that I headed to Spring Valley for a VERY easy puzzle cache I had solved, but before that I stopped off at the shopping center in Rancho San Diego to look at a cache I haven't found several times before, and this time I found it.
THEN on to Spring Valley, where I found the puzzle cache, and then I went home.
I found eight caches today, which brings my total to 2,419 since we started geocaching in 2002. My average cache-finding rate for 2014, to date, is 2.3085 caches per day.
Ain't that interesting!