I keep seeing this bike at the entrance to the stripmallish-place in which my grocery store is located. Is that fork really bent, or is it my glasses?
(File size 272KB, for your zooming-in pleasure.)
Students coming to the library often express their startledness when noticing the girl in the window.
(File Size 25KB)
I got a big thank-you card for National Library Week (April 13-19, 2014). Or maybe it was National Library Workers Day (April 15, 2014). Or even National Librarian's Day (April 16, 2014). It's pretty confusing!
The card was signed inside by many of the students, with some very nice sentiments expressed. Thanks!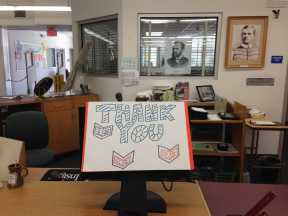 (File Size 366KB, for a detailed look!)
Some of the school libraries have been expressing concern about getting some funds to pay for barcodes for the new Common Core textbook adoptions. We are in good shape, I estimated we have over 16,000 barcodes left from the retrospective conversion we did, uh, maybe ten years ago. Who was in charge of counting how many we would need back then? Uh, again, probably me!