Matt and I went geocaching today. This was one he found, then he made me find it. "Thigh level", indeed. More like eye level to me! He spotted it after about thirty minutes of rock hopping these boulders. It was getting pretty desperate!
If you are using Firefox you can install Thumbnail Zoom Plus add-on and just mouseover the image to view it.
Here is a panorama I took from the very spot! You can see the 52 way way out there on the horizon.
Click on the images to see the BIG PICTURES!
OK, I did some reading of instructions and was able to generate this image with GSAK without have to cut and paste sections into Paint to join them back together. Shows more of the geocaches found in San Diego County, although it obviously doesn't display the whole county. Yesterday's image shows more detail, though, you can zoom in closer.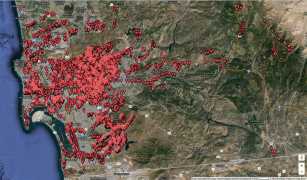 We found eight geocaches today, and saw some very interesting things along way. We only each stepped in poo once, so that was good.
Thanks for reading!