I did pretty much nothing today.
I got up really late in the morning. I should say, I got out of bed really late in the morning. I actually woke up early enough, made oatmeal, and ate it in bed while reading
The School For Good And Evil
by Soman Chainani. A really long book, in the four-hundred page area, AND, I found it is a trilogy. Yikes! I am a hundred pages in and it is not working for me. I hear it's gonna be a movie, too.
Anyway, I read till eleven, alternating with periods of sleep. I finally got out of bed for good and washed the dishes, cleaned the counter, and washed the clothes. Then I got on the computer for the rest of the day. Which happening WAY too often. I'm afraid I am going to develop bedsores.
It rained this evening, which was very pleasant. The temperature outside is 46 degrees. I've had the heat on all day. I was FREEZING for the longest while until I realized the thermostat was set to 65 instead of 70.
I made this image of my geocache finds in the San Diego area by pasting together eleven screenshots from a map generated from a macro in
GSAK
.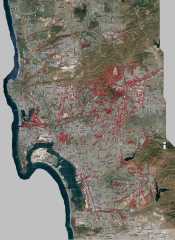 This is a pretty big file, over a MEG!!
Well, that is it for Monday. Tomorrow is garbage day!