I went to the Pancake Breakfast & Rummage Sale fundraiser at work today. I bought a breakfast, graciously telling to, as I put it, "Keep the change!" (a buck). And then I ate it. I looked at the rummage, but I really got enough stuff already.
We went out to
Los Peñasquitos Canyon
today for to do some geocaching. The plan was to knock a few degrees off the 360 challenge.
I reconnoitered the Camino Ruiz Park trail to the canyon, but I found the gate was locked and posted. So much for parking a vehicle at one end and walking the five miles from the park to the vehicle. No, we got to do half the proposed walk in an out-and-back, parking at the other trailhead (west) on Sorrento Valley Blvd.
I'll give you the highlights:
The third cache we found was FULL OF ANTS! Argentine ants.
I saw my first rattlesnake that wasn't in a house or on a road. Matt was not all that far from stepping on it (he was heading towards an interesting plant) when I told him to "STOP!!" I was so rattled (heh heh) that I forgot about the nearby geocache until we were five hundred feet down the trail. We got it on the way back. No sign of the snake then!
BEES!! Matt yelled "BEEEESSSSS!!!!!" I ran, practically screaming. Or not. Well, I certainly moved quickly! It was a big swarm just passing through, not disturbed bees, so they quickly left and we went back to the cache we were looking for.
Waterfall! Adobe Falls has the only practically year-round water fall in the San Diego city limits,
I read
, but this one is not too shabby!
Remember these are just thumbnails, click on the image to load the bigger version!
Matt taking pictures of the water below.
Matt looking over the cliff at the pool and falls below.
I don't know who this guy is, but he is now on my world-famous blog!
Zoomed in a bit for a more compressed look.
Lots of rocks. Too bad I didn't take more note of them, there is an Earth Cache here, all about the rocks.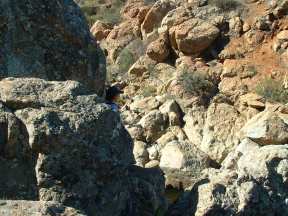 The actual falls. Not how I visualated this picture.
The pool below the falls.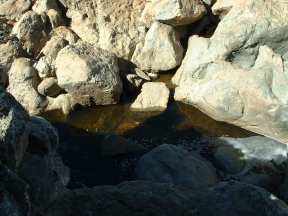 The map showing which "degrees" I still have to do on the 360 Degree Geocaching Challege cache. Knocked off seven degrees today.
We walked about five miles today, and found twelve caches. We only DNFed one. We could SEE it, but neither of us were able to climb up to it. And it only counts if you sign the log... and I should probably add, put it back where you found it!