We planned an expedition to the zoo this morning, but first we went to
Hash House A Go Go
in
Hillcrest
for breakfast. It wasn't crowded, which I understand is unusual, and we were seated immediately. I got coffee and we ordered. I ordered a "scramble", 'cause you KNOW I have issues with making decisions about how to cook eggs. Or any decisions, really... The first warning was when the people at the next table got their food. The plates and portions were HUGE! So when our food came I was staggered. I really couldn't eat it all, at all, and we each got a container for take home. They really should have smaller portions for old people with surgically smaller stomachs! It was pretty delicious, though, and the sprig of rosemary in the biscuit was an interesting touch. It was pretty noisy, the place filled up and the people were talking way loud. I really couldn't hear much. It got a bit disturbing at the end. As far as cost, I think you get your money's worth, but it's not low price for cheapskates like me. It turned out that I DID eat too much, I got a VERY tiresome pain in the lower back while we were geocaching at the zoo, and it was only relieved after much
crepitation
.
So, like I said, we went to zoo, arriving there before it actually opened, but they let you through to the holding pens where you are entertained by a trainer and an animal, in this case a stork that flew in over our heads. Very nice! And at nine the trainer announces, "Pull back the ropes, release the humans!" I loved it!
We found all the caches we were looking for, all five of them, and looked at some animals, too. There seem to be more, or maybe different, animals active in the morning than in the afternoon. My lower back pain started up on the way back up the hill from the polar bear exhibit. It was very tiresome, I may have mentioned! I finally said I don't think I feel up to anymore, plus I was tired.
Here is a picture from the orangutan exhibit.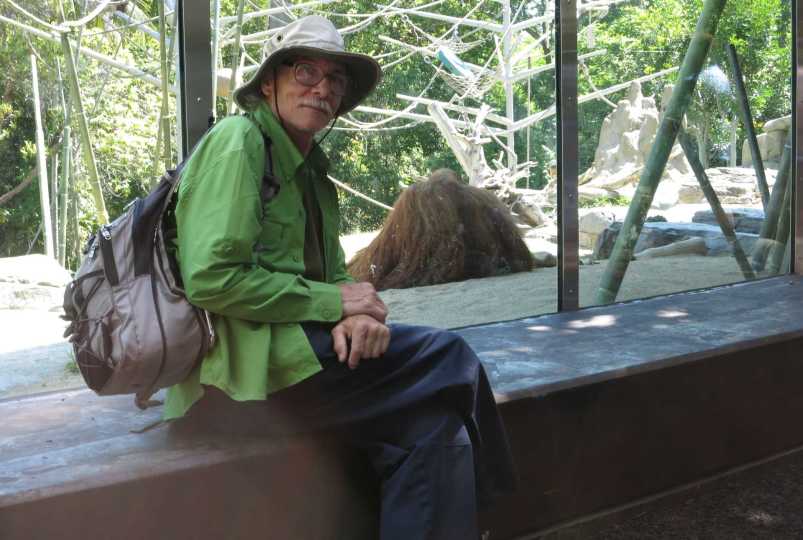 Which one is which? What a brave front I am putting up!
After the zoo we went to
Ace Hardware
in
Hillcrest
where I purchase a
Hotshot
. The Hotshot in the video is an older model like the one I have at work. The newer ones have the "On" button behind the lid so you won't accidentally turn it on when try to dispense your hot water. And more importantly, to me, the lid doesn't fall down all the time on the new ones. I like to keep the lid open to dry it out.
After leaving the hardware store we got confused trying to find the ramp to the 15. We ended up in a parking lot at the
The Hub-Hillcrest Market
so we could consult the GPS. We found there were at least five SDPD cars there, some with their lights flashing, and we observed two more enter the parking lot against the red light with their lights flashing. It seemed to have something to do with an armored car, but everyone was kinda just standing around. Nothing on the intertubes about it, though.
After finding our way to the freeway we made record time getting home where we both promptly fell asleep with the door wide open.
Thanks for reading!