I woke up this morning with the lyrics to
Oino
, by LA Priest, running through my head. I can't remember ANY of them now, but I do like that song! Really, I LOVE that song! But not the video.
Another favorite is
Goodbye Barcelona,
by Pokey LaFarge. Makes me wanna have a beer.
Wolf Alice is still a favorite though, with their rendition of Giant Peach. I saw it live on
KCRW's Morning Becomes Eclectic
and was entranced. Here is another live performance on
KEXP
Seattle.
I also listen to
KRNN
in Juneau, Alaska, for their eclectic mix of music, but maybe not quite as eclectic as
KCRW
, but maybe so in a different direction?
I finally got up and eventually got enough energy together to haul the bike up to the Descanso area and, taking my life in my hands, biked done the Wildwood Glen/Olde Highway 80) road of broken concrete, looking for three geocaches I didn't find before. Well, I found one of them, but of course it wasn't the one at the END of the road. I ended up biking about three miles. I also hiked way down about fifteen hundert feet into a valley for a couple more caches, both which I nearly didn't find, but then did. It was very warm and I was wondering what the signs of heatstroke are. Confusion? I'm always confused. Clumsiness? Well... At least I was wearing a hat, had water, food, and stopped in the shade as needed.
I saw this on the side of the road (dirt), across said road from where I parked/stashed the bike. I sure didn't notice it on the way down, but I'm sure it didn't fall from the sky. Could I fashion that into a geocache container? Uh....maybe not.
After I got back to the vehicle I drove back across the bridge to park and hit a couple of more caches on/near a segment of olde Highway 80. Here's a pic:
The last cache of the day had a view of some casino. This isn't that view. It's IS a view of the hills behind the casino valley. And a view of the vehicle, see it down there? And the cache I walked past four times is in there, too, can you see IT? Don't forget you can click on the image to ENLARGE it.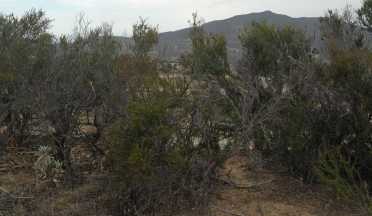 So I drove about fifty miles walked about one miles, and biked about three miles, and found seven caches.
Thanks for reading!