I went down, or over, to Balboa Park this morning. I found a puzzle geocache that I've looked for several times before. FINALLY I looked in the right place!
I did a short multi-cache that I was able to walk to from the same parking place, so no gas wasted. I didn't understand there was some math involved to calculate the location of the final cache. I just looked at the hint, went there, and signed the log. Although I ALMOST didn't find it. I was sitting and thinking for quit a little while before I realized I was right next to it.
Next drove over to the other side of Florida Canyon to Bird Park. I didn't have a clue on this one, and I've been here before looking, back in 2013. This time I had a very slight nudge from someone and it finally clicked after a bit of thinking.
After finishing up there I drove BACK across Florida Canyon to Myrtle Way. I actually parked on Upas St., though, and walked. There are some very nice houses in this area! There used to be an old pergola here, but it fell down during a storm in 2004. I don't know HOW old it was, but I saw a picture of it dated 1924. Now it's just a fenced area. Which wasn't locked. Which is how I got on the inside...
Some years ago the City of San Diego set aside a half-million bucks to fix the pergola, but some people thought that was just a bit too much money for a shaded bench, so most of the money was used to fix the leaky roof of a museum. I'd like to see the pergola, but you could build a HOUSE for a half-million bucks!
I headed down the steps into the canyon, then hung a right, went north a bit, then east again. What ho! Another canyon! I managed to find two caches there after a great deal of aggravation. One was very small, one was rather large. Both were in irritating places. I walked back to the vehicle and headed on north.
I tried to find a cache near the Vermont St. bridge, but failed, as did the two previous cachers. I did get some Bob's oatmeal from the nearby Ralph's, as I parked in their parking lot.
Lastly, I almost forgot there was a cache on Park Blvd. I had figured out, yet another puzzle cache, but fortunately not one involving encryption, math, or the scoring of obscure sports. There was a picture of where it was, you just had to figure out where that where was. It took me about a half-hour, then I realized I've been in that building dozens of times, and even in the building previous to that one, having bicycled there for supplies, once, back in the 60s, as a lad. And an easy find it was.
So much for today!
Last night I made this frozen pizza for dinner. Too much work, too many decisions! I'll NOT be going that route again!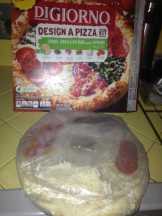 I have loan of the temperature sensor this week. I measure my oatmeal this morning, it was 160.8
°F
after dumping lukewarm milk into it. After coming back from geocaching this noon I made some tea, it was 182.5
°F.
That's all for now, thanks for reading!