I ditched out the afternoon, using vacation hours, to go geocaching. Actually, the impetus was to buy a
fid
at a Shelter Island business. They had some plastic ones, which I purchased, and they said their other store might have more, having a different focus, but I'll give these a try.
I found three geocaches on the Island itself. Two that Matt and I had not been able to find in the past, and another that replaces one that we did find.
A view to North Island from where I was sitting and using the camera to conceal my search...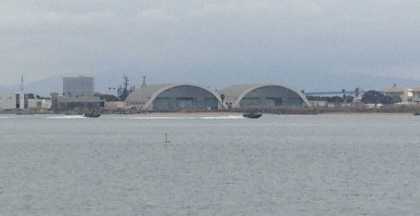 Next, walking to the store for that fid I saw this nifty Moto Guzzi. I thought
Jackal" might be the owner's sobriquet, but I find it is the model name.
After the Guzzi but before the store I found another cache near here, where the rails meet the sea! Or bay...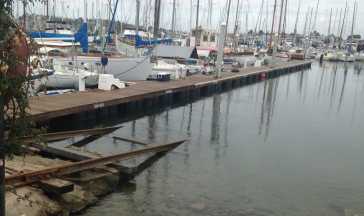 I had solved a puzzle cache that ended up being over at Spanish Landing, so I got that one, too. It was full of hopefully clean sprinkler water, so the log and assorted trinkets were extremely wet. I'm sure the trinkets will survive, but that log will never be the same. I dried everything, except the log, as best I could. I signed it (the log book) anyway, with my trusty gel pen (thanks, Matt!), and put in a replacement log sheet, in TWO plastic bags. 'Cause I'm a GOOD guy.
Harbor Island has one cache that has eluded me several times. It continues to elude me.
And then I endured the rush hour drive home. A drive with not a whole lotta rush. The 5/8 interchange was stop and go, as one would expect, but the 8 picked up speed after the 805 folks got themselves merged, so that was OK.
And that is all for today!