Feeling somewhat better than I did Friday I got out and about a bit today. I picked up the yarn bins from Mrs. D. today. It's only a year late! We had a nice conversation, too, and I met one of her sons. I was of no help fixing her computer, though.
After that I headed over to Switzer Canyon to find some geocaches, and saw this backyard railroad as I was returning to the vehicle. Looks like it has not been run in a while, what with the plants growing over the track.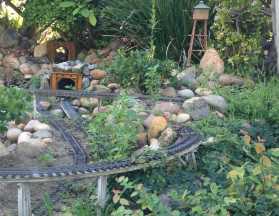 I went after one more cache on the other side of of the canyon, then I called B. and we met up at his new digs and had a bit of a chin wag, and watched a bit of
Lawrence Of Arabia
on the telly.
I made it home just as dusk was settling in, so that worked out!