Saturday I went down to the Big Bay for some geocaching. This is on the pier near Caesar Chavez Park. Lots of tugboats in view from here, although that is not a tugboat in the background.
This is the tribute to Bob Hope. I didn't even know about it. Pretty cool!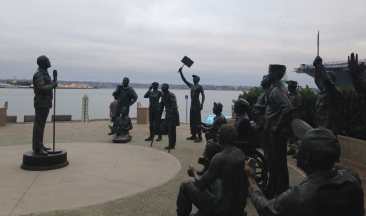 This super yacht was amazing to see, but I think I prefer something more traditional.
A railroad turntable. You don't see a lot of these anymore. I may have ridden in a steam locomotive that was being turned on this one. That's how I remember it. It happened back in 1967. One thing for sure, I definitely rode in the cab of the fired-up steam locomotive that was being towed to the turntable by a diesel locomotive. That is for sure!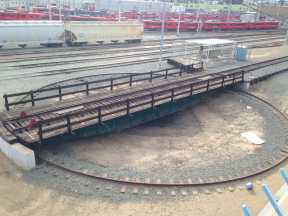 Did I mention I hauled the bike down there and rode it around? Here are the three routes I took:
Route 1 -- Harbor Drive
Route 2 - Cesar Chavez Park
Route 3 -- Harbor Island

As for Sunday...
I got involved in a "friendship" multi-cache, not unlike that one I did a few years ago with a poor fellow on the east coast who had to put up with my coordinate misteaks.
This one had a Star Of India theme. The deal is, I had to find out the coordinates to the final location of a related cache on the Isle Of Man. 'Cause that is where the Star Of India was built! Then I had to contact a geocacher on the isle who had the coordinates to the final cache here, and we would trade information. Then we both get a find, and in this case in another country!
So I got the coordinates from my partner on the Isle Of Man and drove the back roads down to find it. Of course there was NO parking, so I had to park a mile away and walk there. While walking I passed by the Star, where there was a giant event going on, with hundreds of people on the ship and on the ground, drinking beer, eating, and listening to a live rock band.
Mostly unrelated to this, I remembered I have a patch that I got for donating to the fund for the
American team going to the 1975 ISDT on the Isle of Man
.
After that I went up to Balboa Park to look around. There is water in that secluded fountain I visited before! Very peaceful here, there were only two other people.
That is about it for today!
Oh, wait, on the drive to the bay today I saw a big Triumph motorcycle parked at the curb around 30th street with full knobby tires and number plates. Wish I had got a picture of THAT!