I noticed while posting the details of the one book I've read this month that the number of books I've read each year has been declining.
In 2012 during January through June I read 97 books.
In 2013 during January through June I read 49 books.
In 2014 during January through June I read 45 books.
Huh.
Today I went geocaching in Santee. The goal was to find some caches that I previously had not been able to find. Well, I did. I found three caches that were previously DNFs. I didn't find one cache that was a DNF (and still is!). I found two new-to-me caches. And I found that puzzle cache that had the barking doggie last week.
Lookie there, by that bush in the middle. Tell me that doesn't look like a snake!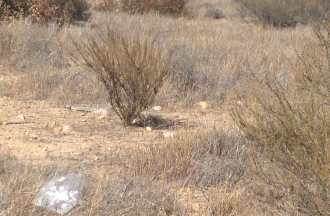 Well, it was not. But it did give me pause!
A panorama (Half a meg in size) of Santee from the top of a hill. Cowles Mt. is on the far right part.
Sure is a lot of litter, I should have brought a bag.
One of the new caches was at the old
Edgemoor barn
.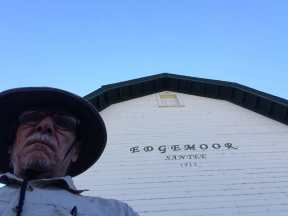 My geocaching partner on the Isle Of Man found the
Euterpe (Star Of India)
cache there with the coordinates I sent her and signed our names, so now I have found a cache in another country. I in turn found the Euterpe cache here in San Diego with the coordinates she sent me and signed her name to the log. So she now has the U.S. Unless she already did.
Well, I can think of nothing else at this time.
Later!
I cannot express how much I love Greek Vanilla Yoghourt. It is just wonderful!