Because I KNOW someone wants to hear it, a short audio clip (WAV format, 1.9mb size) of the
neighbor's dogs howling.
More on my attempts to repair books with Japanese paper. I had several books with corners and edges torn off the pages. One book had seventy-five torn places. I felt I ought to try to repair them, even though it really wasn't cost effective.
NOTE: The last image is of a book written by Meg Whalen Turner, from that series that seems to have no name, about the Thief of Eddis. Which I enjoyed VERY much. The other two images are either from the same series, or one of Rick Riordan's. Or both. Or something.
First I tried using corners cut from an old discarded book. It is pretty strong, but bulky. I don't like the color, either. The white paper behind the corner is Japanese paper sticking out from another corner. You can see my alignment and trimming isn't fabulous.
This shows Japanese paper cut with the water brush technique, nicely blending into the page.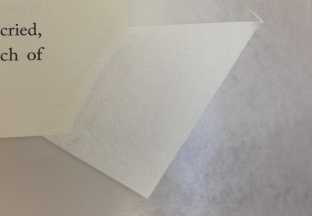 I did mix some wheat paste, but I can't remember which ones I used it on. You can see the difference between the water brush "cuts" and a scissors cut (bottom edge). This is a paperback.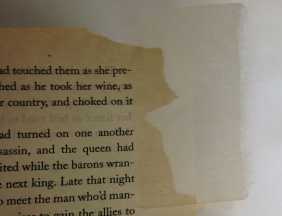 Perhaps if I had been really handy I could have trimmed the page to a straighter edge, or maybe I could even have cut the Japanese paper to follow the irregular edge!
Well, that's all I got for today.