Marcia and Matt and I went to the Mission Trails Regional Park for a guided nature walk today. We learned about the kinds of plants there are in the park, and saw the depressions in the rocks where the Indians ground their acorns. I asked the guide about the "horse coffin" I have heard about, but she did not know where it was. The three of us toured the museum/visitor center afterwards.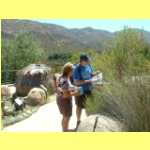 That's amazing!
California Rose. With bees!
And then we went to lunch at West Coast Barbecue & Brew, where I filled up on "Q" and potato salad.