I went off geocaching in Rancho San Diego this morning, and what turned into afternoon. Six hours, I think, and five miles walked.
So here I am reclining on a rock pile, feet up, looking down into the valley below, and Mt. Miguel above.
Cache was down in this portable potty, part of a continuing series of jokes at the expense of a friend of theirs.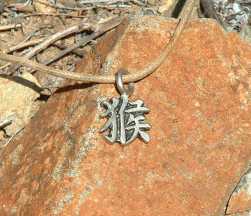 Found this necklace on the trail and put it into the next cache I found. After MUCH research I discovered it is the Chinese monkey symbol.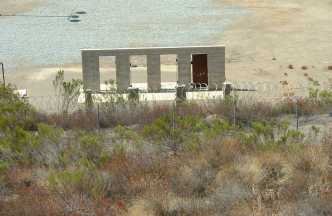 One wonders what these doorways are for.
A view from above the old county dump.
Is that one of them hunter-killer droids from Star Wars over there?
Nope, it is an earth scope installation.
That is the 94 heading off to Jamul.
I found seven caches. Didn't find four, and two of those were DNFs on previous logs. And so I got my : ) and my
The 31 Days Of Geocaching
badge for August 1st.
On the way home I stopped in at the Rancho San Diego Albertsons, which was only fair since I had parked in their lot all morning, and purchased some ginger ale, root beer, and cola, all diet. A few apple, some Irish oatmeal (I don't know why), generic granola bars, generic bran flakes, generic peanut butter, and finally, two loaves of bread, which I had a lot of difficulty locating and had to make several trips around the store.
Then I went home.
On another note, I noted that Michael Chabon had a sentence with over 250 words (I counted!) in
Telegraph Avenue
.