Went down to the tidelands to do a little geocaching and bike riding this morning. Did not find the first cache I looked for, but I did find a watch! I starting to think that it was "left behind" because of the sweat stink in the band. I have washed my wrist FOUR TIMES and the stench is barely mitigated! And what do I need with another watch? I have two excellent Casio watches, one with a compass. And a Seiko, and the American Eagle pocket watch C. got me, and of course my Mickey Mouse pocket watch from the 70s. Still a tickin'!
Some big ol' sailboat being worked on at some shipyard. EDIT: It the Californian. The
shipyard has a webpage telling what ships are there
. Who knew?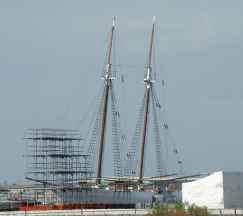 I saw this boat being launched and I talked to the owner/builder for a few minutes. He said it is a McKenzie River dory. The Wikipedia article says the transom is pointed, and the bow is flat, and that is where the motor is mounted. On the bow. I am confused. I wish I had known this when I was talking to the guy!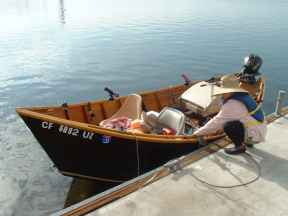 Sure is a cutie, ain't it!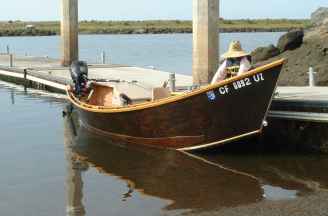 I found eight geocaches today, and didn't find seven. I rode the bike to most of the caches. I really have to get a kickstand!
So there you go, that is what is happening today!