This morning I went down to National City to see the king tide risen over 18th St. at Paradise Creek. I was the last vehicle to use the turn lane from National City Blvd. before the city crew blocked it off.
L
ink to Google Maps
I parked down the left from that white truck, see below in this very interesting and odd panorama. Just to set the scene. How do you like that nifty vehicle in the center, does not that look fun? Paradise Creek passes under the road (mostly!) between those two buildings, behind the strange vehicle.

Panorama 1
Looking to the west we see flooding, and children heading to school at the elementary school.
These students passed behind me on their way to school, then had to swing out into the bike lane in an attempt to avoid more flooding on their right. Maybe the water is coming up in the storm drains, I don't know.
I managed to get just one photo of a vehicle splashing.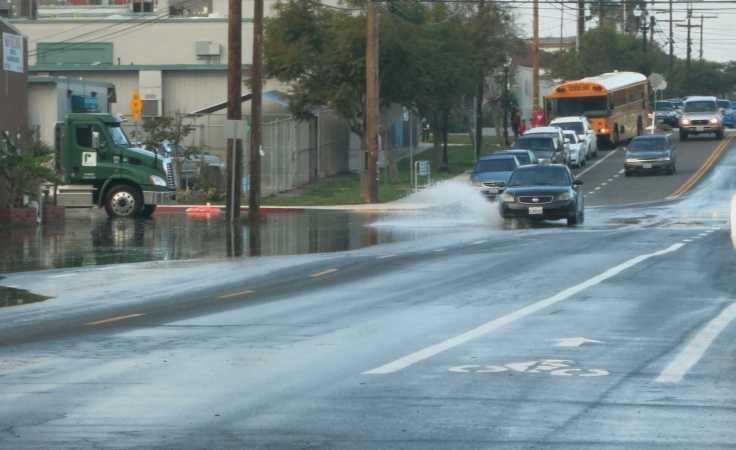 I moved my vehicle behind the elementary school, then walked to the viewing platforms. To the left would be the street I was on before. The water is almost to the bottom of the platforms. There is a bit of redevelopment going on. Those apartments to the right of center are new low income housing. Too much junk floating in the creek, though.

Panorama 2
This panorama is pretty much the same as the one above, but I was trying to get two egrets I saw into the image. They are just to the left at the end of the "fence" on the left, at the water's edge, but they are white so the glare really overpowers them. I didn't want to get too close, for fear of disturbing them.

Please remember you can click on the images to see the full quality full size image!
Thanks for visiting!