From
the article at Popular Mechanics
I finally built the D*I*G*T*A*L television antenna (although I don't really understand the difference between an analog antenna and a digital one.
ELI5
)
Here we are loading the channels.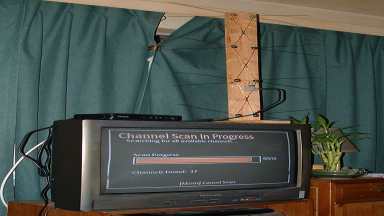 Now THAT'S wide screen!
Whoops, wrong picture, that was an editing misteak. Try this one!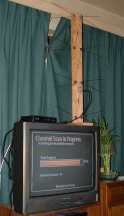 I bought a lazy susan mechanism at Home Depot, but I haven't installed it yet. It will make the antenna a little more stable, and easier to rotate for directional fine tuning.
So you see seventeen channels there, not all of them have enough signal for a picture. I think they were all Mexican stations that weren't strong enough.
On reviewing the plans I see I connected the cable/impedance-matching transformer to the wrong spot on the phasing bars, and in turn did not construct the phasing bars in the correct pattern.
But hey, I got thirteen or so good stations. and that is better than the five I got before!
I also bought a cheap LED headlamp setup, goes on my head. Only eighteen bucks, and eighty claimed lumens! Also two sad little succulents for the bird bath perimeter.