I needed a cache for the day, so I headed out to El Cajon. It's not that there aren't un-found caches nearby, it is that I can't find them. That is why they are un-found. See? It's simple!
I went to one cache, a lady was smoking and she wasn't going away. So I did. Parking was a little dubious at the next one, but I quickly made the find, thanks to the excellent hint, and skedaddled outta there.
I wanted to check on my cache at Costco because someone had a DNF there. So I decided to treat myself to dinner! I had a Polish dog and a soda. With LOTS of onions.
Dinner!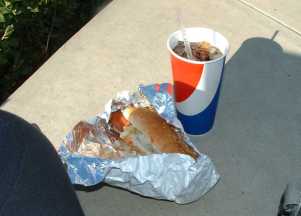 Dinner and a Cache (Can you see the cache?)
Just eating
The last two pics I posted on the
cache page
as clues.
As for yesterday, I bought a fake half of an oak barrel and two paint buckets for the bird bath project. Have NOT received the pump as of yet, though... I also bought a hot pepper plant for the upside-down planter thing.
It was a hundred outside and ninety-one in the hot back bedroom when I got home. The sun may have been shining on the sensor, however.
We're done here.