Off to the North County this morning. Well, it's north of ME!
I solved a short multi-cache and so made the hike up a ridge to make the find, which I eventually did. A nice view to be seen, too. That would be Mt. Woodson up there, I guess.
(Warning: File size: 969KB)
I am normally a very law-abiding citizen, but there was no one around to pat me on the back so I sneaked an illegally parking spot for a few minutes to find my second cache.
Another change of parking, this time in a lot, and off to follow the service road up a steep hill to a water tower, almost. The view was even better than the ridge, it is OF the ridge I was on earlier!
Someone had been placing cute little figures in the caches, I noticed. When I pulled the log sheet out of my fourth find something dark came popping out, I thought it was a bug or a spider. Yikes! No, it was just this little guy.
Certain area of Poway have these solar-powered blinking stop signs, a very eye-catching device. This one seems unnecessary, because, as you can see, the road is completely blocked off to traffic, the other end being a cul-de-sac.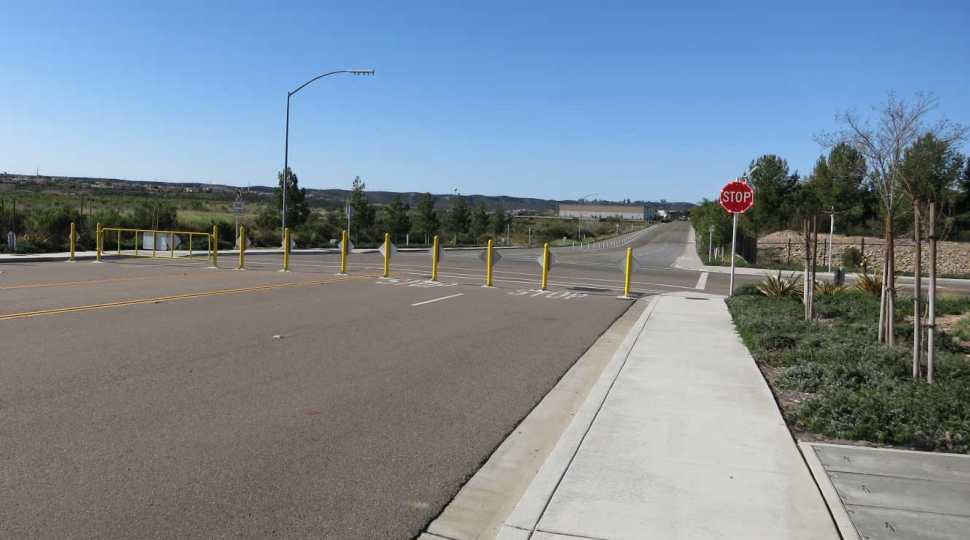 I am completely impressed with myself for having caught the LEDs
lit
in my first image (of five!).
After walking around quite a bit more I walked back to the vehicle and drove to Costco, where I had lunch, consisting of a hot dog (with a diet soda), and a chicken bake. Either of which would have been a meal, I'm sure. I'm a bit afraid to check the carb count on that bake!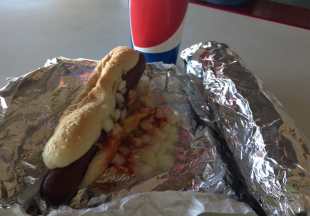 I intended to go for more caches in and around the Costco area, but it was just tol busy and I was getting tired. Carb overload? So I drove home. But Poway is in the position of being right in the middle of the top of a big block of no roads south, so I had the choice of going via Miramar or Lakeside. I chose Lakeside. A little less freeway to deal with.
Which I used to visit Slaughterhouse Canyon Road, with its one cache. Which I found, after reading the hint. As it turned out I had already handled the item and discounted it as being the cache. This sounds oddly familiar... Anyway, I wonder where the street name came from?*
I found eleven caches and walked 4.3 miles today.
On the way home I was listening to a public radio show where a woman was talking about her trouble finding "the one", someone she wanted to marry. And, that wanted to marry her. It made me think how lucky I was to have TWO women in my short dating career that loved me very much, unfortunately at the same time, and so I was ordered to make a decision. I made the decision and, while it could have gone either way at the time, I've not regretted it.
And I think that is it for this St. Valentine's Day.
*The
Lakeside Historical Society newsletter for July 2000
has an article that mentions where the street name came from. The article also mentions the Denlinger dairy in El Monte Valley.