I went out to Sloane Canyon Road, off of Dehesa Road to pick up some geocaches this morning. It's my first and only big geocaching trip, as it were, of the vacation week. I found ten caches, one of which hadn't been found in nearly three years. And no wonder, it was quite overgrown with big bushes, fortunately it was an ammo can (with a very large Geocaching.com sticker on it) buried in leaves. But I reigned triumphant.
So here is where I went, and the ones I found today have the pink arrows. Yellow smilies are caches I have found. As you can see there are quite a few to go!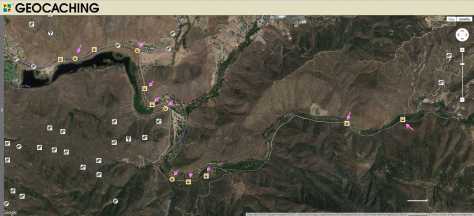 This might be an impressive waterfall during the rainy season!
This is Al. I poked him with my stick to make sure he wouldn't bite me.
I also stopped by Singing Hills. It's very quiet today, not very many people around visiting. I looked for the turtles but didn't see any. Maybe they hibernate during winter.
I washed the clothes when I got home, painted the TV antenna base, varnished the various things I've been varnishing, listened to the ten songs I managed to get on the iPhone, and ate something, I'm sure.
Now back to work tomorrow!