or at least, anything I am inspired to do.
Some fooling around with the camera.
Makers Mark swag came today!
I like the previous picture more better.
At work I was given a bag of pizzelle (which I had to Google to recall) that her daughter made. She said it goes great with coffee. It goes great with tea, too!
What is the point of wearing glasses if one can't make pictures with the reflections?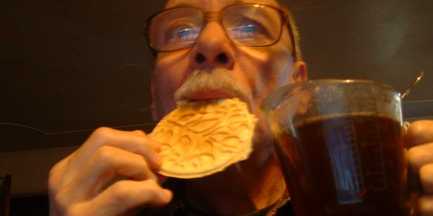 I was inspired to make these pictures by the Fark.com forum
Photoshop what the FBI sees from your laptop.
There were only sixteen entries, some are NSFW (Not Safe For Work). I didn't enter, though.
I finished another
Sudoku To Go
(Volume 45) book of a 100 puzzles.
New Puzzles
, it says, that
You Can Take Anywhere!
For statistical porpoises, here are the final results:
Easy Level -- 26 Successfully Completed 4 Just Plain Wrong
Medium Level -- 30 Successfully Completed 5 Just Plain Wrong
Hard Level -- 15 Successfully Completed 5 Just Plain Wrong
Diabolical Level -- 10 Successfully Completed 5 Just Plain Wrong
I am full of hope I will accomplish something today.