Well, it is the last day of vacation, and back to work tomorrow. For a couple of hours, anyway, then it's off to the dentist for a bunch of work, then it's home to recover.
Sunday morning I got up before dawn and headed out.
The first cache I had planned (and yes, I did actually plan this trip!) was at the Big Red T in "Spring Valley" (Not really Spring Valley, I see). Don't remember those? They were Thriftimart grocery stores. There used to be one on Lake Murray Blvd. in the "San Carlos" area, as we called it. I took a helpful tool along and was able to find the cache this time, on my third visit there.
This image is from Google Street View.
I then drove down to a residential area near to the Sleep Train Amphitheater (Is that the correct name this week?) and hiked the hills looking for three caches. Several VERY steep hills involved, and found the caches. Saw one dog in a yard who did not bark, but "woofed" very determinedly.
Due to the un-connectivity of the roads I had to drive about four miles to get to the other side of the canyon to get two more caches. These were the last of the "Spooky Canyon" cache series.
Here we got a panorama looking to the west, to start. It's a really big file so you can zoom in a bit. You can see ships in the ocean!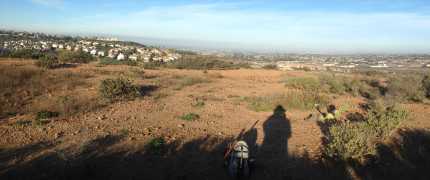 This one is to show where the truck is parked, way way down there! And how far I had to ascend to get this view!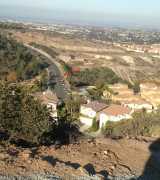 No more pictures, but after getting safely down the treacherous hill I drove even farther south to the Otay Mesa area to find eleven or so assorted caches. There were not any hill to climb, but some of them were a bit tricky, and sometimes parking was difficult to come by.
Lastly, I headed home but got off at Bonita Road 'cause I had a idea I want to have an even twenty caches found for the day. So I kept looking for easy caches to find, and kept getting thwarted by one thing or another. I finally parked at Sweetwater Regional Park and walked a thousand feet to a cache, found it, then decided I didn't really NEED to find twenty caches today, and drove home.
Well, not quite home, I went to El Pollo Loco and got a Ultimate Double Chicken Enchiladas, which I see has WAY too many carbs, I should have chosen a regular Chicken Enchiladas and skipped the rice. Anyway, I've been hankering for this and finally, after several weeks, got it. It was OK, I should probably get enchiladas at a regular taco shop for comparison purposes.
Thanks for reading!