I went out this morning to visit the "doctor". Before the appointment I walked over to the hospital area, but found the cell had no connection. I was running out of time so I went to the appointment. While in the waiting room (contrary to what I posted on the FB) I discovered the phone was on airplane mode... After labs I walked over to the hospital to search for a geocache. I spotted this jail behind the hospital.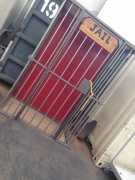 I drove over to another spot to look for a cache I had not found before, but when I got there I found it a disabled. I looked around (on the app) for another cache, and found a couple more across the freeway along a little path. So I drove over there and found them. Took this panorama of some antennas.

The medical visit went OK, and I didn't faint during labs, so that's all good.
Thanks for reading!