Yes, it was amazing, I actually went out by myself.
I went out to a place I had seen in
Hidden San Diego
. That is a great site, lots of interesting places to go listed. Except they don't always tell you how to get there!
This was a chimney just sitting here. I guess there used to be a house, probably burnt down in one of our many fires.
Remember, you can click on the images to view the large version. Especially nice are those panoramas!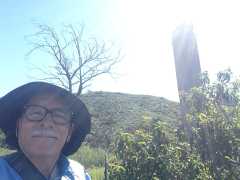 Here is a panorama showing the main mansion (what else can I call it?) at the turn-around point in my journey.
Panorama Warning -- Large File!
Tennis, anyone?
Panorama Warning -- Large File!
There was a nifty hill nearby with a great view. You can see the house back through the trees.
Panorama Warning -- Large File!
A couple of views showing Mt. Helix.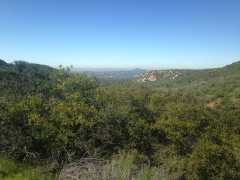 One a little more zoomed in than the other.
I have problems with focusing. This LOOKED focused when I took it!
Well, PARTS of the picture are in focus!
These little cuties look pretty good!
Some of the side trail have been posted off limits.
That is the last picture from the hike!
The poppies bloomed in my yard a few days ago. The petals are already falling off!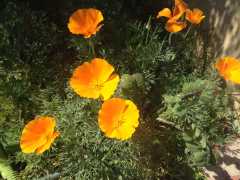 A slightly different angle, showing some brick.
That is all for today. Thanks for reading!