So here we are, in the fourth week of summer vacation, etc.
Last Thursday S. and I went up to the Alta Vista Gardens (which is NOT the same as Vista Gardens!). Stupidly I did not take but one picture, this one, of a model rocket parachute/nose cone in a tree. Where is the main rocket body? They should be attached, right? Maybe on the other side of the tree, I neglected to look.
Afterwards we found a geocache near the old
Engle Airport/Escondido Airport
location.
And ate lunch at the Home Sweet Home Cafe.
It has been rather warm here for a week, at least! This candle got warm and soft and fell right over!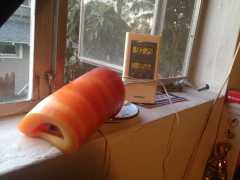 A couple of days later it was noticed that it had fallen over again.
So, just a bunch a pictures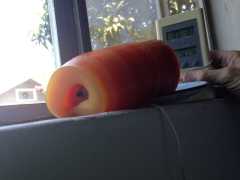 of a candle. A candle in the sun?
The breeze made the
Weetabix
sticker pop up just as I took the picture!
Actually, I can't remember if I took that picture, or L.--It is a mystery.
I shot this panorama at the end of the Sunset Trail in the Tijuana River Estuary Park. That is my shiny umbrella leaning up against the sign post. Naval Outlying Landing Field Imperial Beach is to the right.
(CLICK on it. It is only about a meg!)
Confusedly, this trail is not on the current trail map, and yet it is quite clearly signed for
hikers
and horses. And there is quite a BIT of horse poop along the way!
There was a spider on my screen last night.
I keep my spare change in this cup, guarded by the tiger.
It is 96 right now, outside, and 88 inside. It is 3:42 PM.
I finished reading
Charms For The Easy Life
(by Kaye Gibbons) a few days ago. I must say I NEVER would have picked that book to read, and I must say it is one of the best books I've ever read.
Now I'm reading
Monuments Men
(by Robert M. Edsel). It is pretty good, too!
Both of these books have had movies made of them, of one sort or another. Apparently not GREAT movies, but good movies.
Thanks for reading!