I spotted a bird in the bird bath. I took about ten pictures, they all are either blurry or boring. Matt took this one from the window overlooking.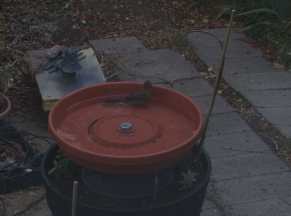 Birdie spent some time in there, splashing about. Maybe he will invite some friends over!
We spent some time at Home Depot today. I bought a Makita jig saw there yesterday. It is blue. We used it to saw up some wood today. It is very nice! I feel a new model railroad coming on.